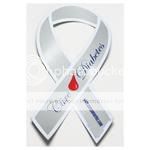 Recent studies show there is higher incidence of hearing loss among people with diabetes then in the general population. This suggests there is a tie between the two diseases.
One study revealed people with diabetes are two times more likely to have
hearing loss
. It is believed that diabetes may cause hearing loss by damaging the nerves and
blood vessels
of the
inner ear.
Adults with elevated
blood sugar
but not high enough to be diabetes, have a 30 percent greater chance of developing hearing loss. .

Despite these findings, hearing screenings typically are not part of the recommended regimen of care for people with diabetes. Most people, including physicians do not understand the threat the disease also poses to hearing health. Hearing loss impacts over all health and leads to many other problems including sadness, depression, withdrawal from social situations, fatigue, anger, frustration and even paranoia.
If you've been diagnosed with diabetes, have a baseline hearing evaluation. It is good to have one before you notice symptoms of hearing loss. Monitor your hearing through periodic follow up evaluations. Most insurance plans including Medicare cover the evaluation. Take good care of your hearing call an audiologist today!
Life Sounds Great! Enjoy every moment!
Jane Kukula, AuD
Paula Webster, MA
Advanced Audiology Concepts
8897 Mentor Ave
Mentor, Ohio 44060
440-205-8848
http://www.aachear.org/